Product Overview
Fragrances
The Hand wipes come with different flavours
Roche, Lemon, Sandal Wood, Green Tea, Cool, Grapefruit & Mandarin, Belved
Technology
The container (diameter 40mm, height 14mm) is a two-chamber system. In the outer-chamber, the application fluid is held (max.5ml). The inner-chamber holds a compressed cellulose towel (23x22 cm). The two chambers are separated from each other.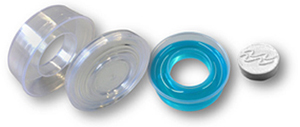 The Three components – The application fluid, the recyclable container system and the pressed cellulose bio-degradable towel make up the complete product.

How does it work? Through applied pressure to the middle, the container opens the valve at the bottom and the fluid from the outer-chamber reaches the inner-chamber with the towel. The towel then fully absorbs the fluid and rises vertically. After this contact, the towel can easily be removed, unfolded and put to use.

See video demo on the Product pages.
WHY NATURALWIPES?
Competitive Advantage
Naturalwipes will add competitive advantages over the traditional products...Here's how?
Save Water
Uses about 5 mL of cleansing fluid. Washing your hands requires on average 1.5 L of water
Environmentally Friendly
Is recyclable and does not use preservatives. The cellulose towel is biodegradable. The container is made from PP5 plastic and can be recycled.
Economising Weight
Your reliable companion on-the-go, weighs 10g.
Reduce Spending
The fluid and the towel are separated until its activation. While other wipes dry out after several months.
Saves on Electricity - no need to warm it up before use.